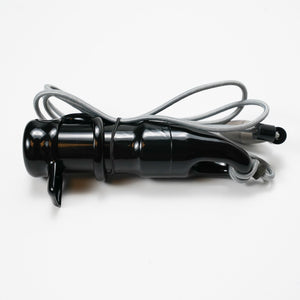 BLUF: Perfect for concealing escape tools, cash, medicine, and other small valuables.
The Go-Tube IWB Strap 3.0 includes the following:

Go-Tube

Hanger Cap sealed with heat-shrink

Shock-cord waist strap installed with MSB-TC (Micro Striker Bead Tungsten Carbide)

Silicon retainers for installing optional shim
The shock-cord waist strap is worn around the waist to allow for easy access to Go-Tube and contents when restrained to the front or rear.
To install simply place the shock cord around your waist and adjust the position of the knot for a custom fit (not too tight, not too loose).
We recommend wearing the Go-Tube inside your underwear so it's positioned at the front with the shock cord tucked a way.
This is a tried and tested method of carry that conceals the items until they are required.


For covert carry and concealment of the SAD-Tool 3.0 and other FT-CCK4.0 components we recommend loading the items into the Go-Tube IWB Strap.
It can also be used for carrying and protecting other items such as micro SD cards, SIM cards, SERE Kit etc.

Length without end caps 50.8mm (2 inches)
External Diameter 20mm
Internal Diameter 17mm (5/8 inch)
Simple Design
Lightweight
Airtight
Waterproof/Mildew-Proof
Silent Operation
100% non-metallic
Vinyl End Caps for comfort when worn against the skin.